Regular price
Sale price
£10.50 GBP
Unit price
per
Sale
Sold out
This is our regular bag, full of super-fresh, organic vegetables, leafy greens, salads, herbs and sometimes fruit.

What you get varies week-to-week depending on what's fresh and in-season.
The produce is grown on our farm in Greenwich, though we do sometimes supplement with organic produce from bigger organic farms during early or late season - we'll let you know when something comes from elsewhere.

The bag often contains potatoes and onions on alternate weeks, though you can opt out of either, and during the summer and early autumn we'll be putting in other vegetables from our farm rather than potatoes/onions. 
Details
Available for home delivery or at collection points
When: every Friday 
Day: Friday
Delivery options: delivered to your door for +£3 (applied at checkout) or available for pick-up at collection points for no extra cost
Home delivery available in: Plumstead, Charlton, Eltham and Blackheath
Collection points: (select at checkout)
- Shrewsbury House, Bushmoor Crescent, SE18 3EG between 11am - 8pm on a Friday.
- Sitopia Farm, 331 Shooters Hill, DA16 3RP between 11am - 4pm on a Friday.
Items: 4-6 per week
Suitable for: a single person or couple
View full details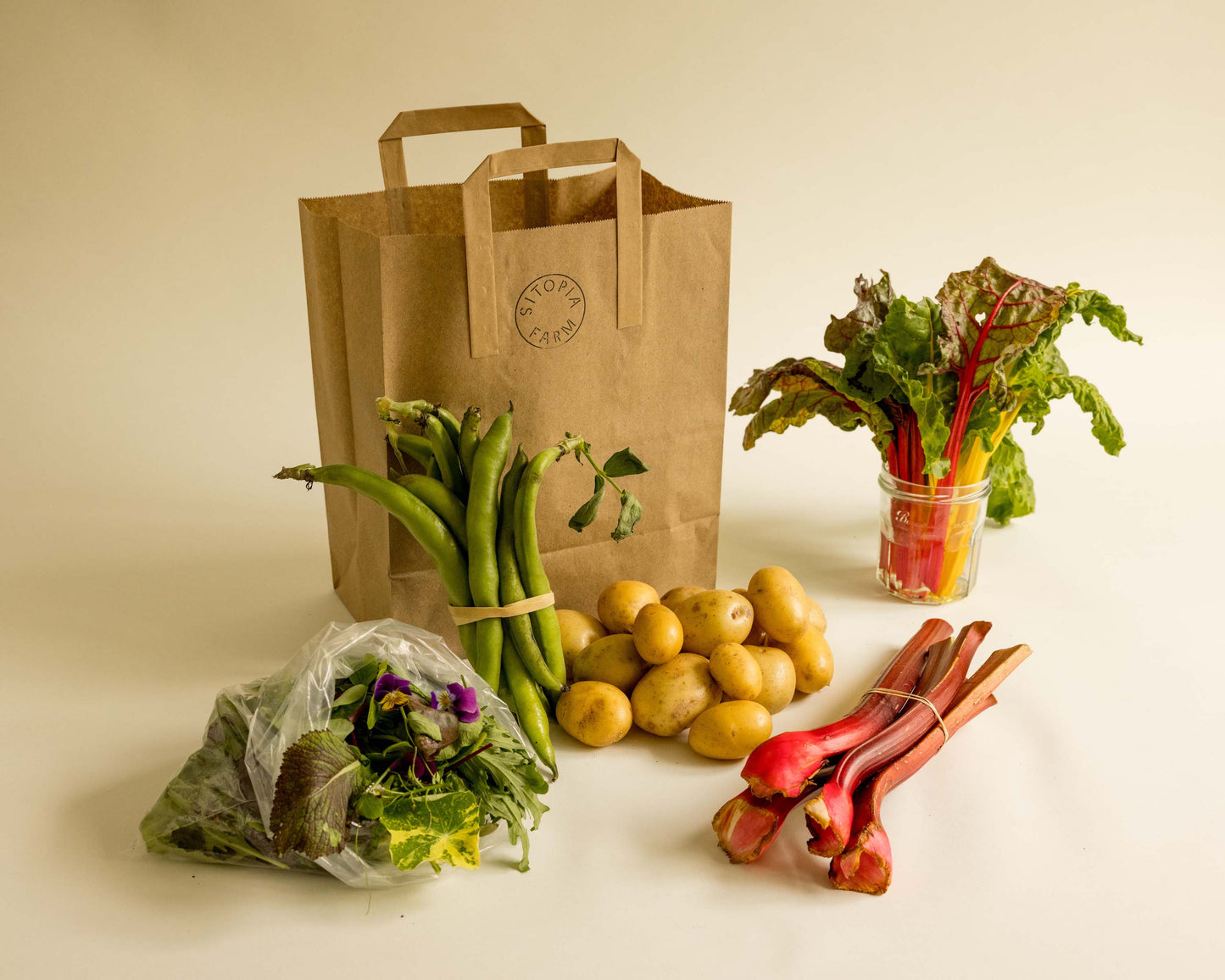 Subscription FAQs
What's in your veg bags?

Our produce bags reflect what's in season and tastiest at the farm that week. A small bag will always contain at least three or four vegetable/ salad/ herb items and often organic potatoes or onions from nearby organic farms (unless you opt out of these). Larger bags contain five or six vegetable / salad / herb items plus organic potatoes or onions when in season. We try our best to ensure you have a good range and variety of produce. In the winter months/ the 'Hungry Gap' for British produce we therefore supplement the bags with organic produce from other farms.
What if I'm going on holiday or need to pause?

It's really easy to skip weeks if you need to. When you subscribe you will get an Online Customer account where you can manage your subscriptions, skip one or more orders and update your personal details.
To access your account click here: https://sitopiafarm.com/account/login
What packaging do you use?

We hate wasteful packaging here at Sitopia Farm. Wherever possible we will avoid packaging, but some is necessary to keep your produce as fresh and tasty as possible.

Your vegetables comes in a brown paper bag that can be recycled as part of your council recycling collection, or put on your home compost heap.

We do need to put your salad and leafy greens in bags to keep it fresh and at present this is in thin plastic bags. After much research we have concluded this to be the lesser of evils. In the past we used 'compostable bags', however at present compostable packaging isn't the solution it might seem to be. The waste management systems Londoners have access to can't deal with compostable packaging sustainably.

Most council food and garden waste recycling systems can't take compostable packaging as part of your food or garden waste collection because a) it's really difficult for collection crews to distinguish between compostable packaging and ordinary plastic which would be contamination and b) their reprocessing facilities were not designed to deal with all the different kinds of compostable packaging on the market today which often don't break down in the timescales required.

Compostable packaging can be composted at home in your compost heap - but data shows that only a minority of UK citizens actually have their own compost heap so this isn't a solution for most people at the moment.

This means compostable packaging, more often than not, ends up in the normal rubbish bin, which is actually quite damaging. They end up in landfill where, because they are made of organic matter, they will decompose in the absence of oxygen to produce methane - a greenhouse gas 21 times stronger than CO2. Plastic, although not an ideal material to use, is actually quite inert in a landfill site, and so at present we believe this is the lesser of two evils.

We never seal our plastic bags of salad or greens so that you can reuse the bags.

All our flowers are freshly harvested and well conditioned in cool water before delivery to preserve vase life. We do not use plastic or cellophane flower wrapping or florists' foam. Instead we use brown paper packaging that can be recycled as part of your council paper recycling. To keep them in excellent condition we ask that you put the flowers in water as soon as possible after they have been delivered (including leaving a bucket or jug of water out for us if you're not going to be in).

We also suggest that to get the best out of your bouquet you remove all the packaging as soon as you can. Snip a centimetre off the stems of your flowers and put them in water. Flowers from Sitopia Farm have not been treated with any flower preserving chemicals neither do we provide flower food. Giving flowers fresh water every day and snipping the stems will keep your bouquet in top condition for up to a week. If you find that a few flowers do go over during that time then pinch them out of the bouquet and leave the others to continue growing. Our flowers are cut to order to be full of scent and literally grow in the vase.
What if I need to cancel my subscription?

It's really easy to pause your subscription if you need to. When you subscribe you will get an Online Customer account where you can manage your subscriptions, pause, skip an order and update your personal details.
To access your account click here: https://sitopiafarm.com/account/login
How sustainable is your produce?

Sitopia Farm exists because of our passionate commitment to transforming the food system. Industrial agro-chemical food production (which supplies the vast majority of food in supermarkets and convenience stores in the UK) is responsible for about 30% of greenhouse gas emissions globally and massive biodiversity loss amongst other environmental damage. At the same time as an obesity epidemic, millions of people in the UK and globally suffer from malnutrition and inadequate access to good nutritious food.

Everything we do is about seeking to change this. From our organic, no-till, regenerative farming practices, to our engagement with our local community, our commitment to delivering within a few miles' radius of the farm, our discounts for those on low incomes, advancing our environmental, health and social objectives is at the heart of what we do. Through buying from us you are playing a critical role in supporting us, the birds, bees and butterflies on our farm, and engendering the urgent food system transformation we all need to see.
Do you offer any discounts?

We offer a 20% discount for those on low incomes (e.g. on Universal Credit). Please get in touch at shop@sitopiafarm.com if you'd like to explore this option.
Do you deliver?

Yes we do!

Home delivery is on Fridays for those who live in Plumstead, Eltham and Blackheath.

All our produce is as fresh as it comes, but for those subscribed to flower delivery who expect to be out on Fridays we ask that you leave a bucket or large jug with water out for us. Then we can pop your flower bouquet in water immediately on delivery and keep them as fresh as possible.

Alternatively, if you would prefer to pick up your veg bag and flowers, you can collect from:

- Shrewsbury House, Bushmoor Crescent, SE18 3EG between 11am and 8pm.

- Sitopia Farm, 331 Shooters Hill, DA16 3RP between 11 am and 4pm.
When will my subscription arrive?

On a Friday - for both home delivery and collection.

When you sign up, you'll need to sign up by Tuesday of that week to receive your delivery on that Friday, otherwise your first subscription will come the following week.